We are an enthusiastic team of Christian youth workers based in the local area of Tavistock
We employ a full-time, fully qualified Youth Worker (see below) who manages a team of trainee youth workers and a team of volunteers. Our trainee youth workers are foundation and degree level students, including some students from South West Youth Ministries (SWYM).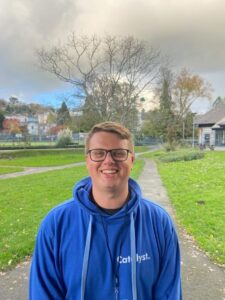 I joined Catalyst in September 2017 as a student youth worker.  I have lived in Bere Alston all my life but recently have moved to Tavistock and am setting up a new home for my married life with Alice.  
I am excited to take on a  new role as a full time Youth Worker.
Josh Bache
Student Youth Worker
I joined Catalyst as a trainee Youth Worker in September 2022. I have lived in Tavistock all my life and have just finished my A levels at Tavistock College. I am excited to see what the year ahead will look like and support the young people in the school too.
I am a big fan of all things media and I look forward to bringing those skills to Catalyst.
Lily Doyle
Student Youth Worker
I joined Catalyst as a trainee Youth Worker In December 2020. I have spent the last year working with Catalyst and undertaking training. I look forward to continuing my placement and my education as a BA student this year.
Ive grown up in Wadebridge Cornwall and in my free time I love playing netball, going in the sea and walking my puppy.
Supporting groups and churches